Uploading the right photos can be the difference between getting work and not getting work
The Four Main Photos:
You will need to upload a minimum of three photos, with a fourth being optional.

Head and Shoulders photo

Full-length photo

Smart photo
Any other photo of your choice (optional)
It's important to keep reviewing your photos and make sure they reflect accurately how you look now. For example, if your hairstyle or hair colour changes, or you lose or put on a bit of weight you need to update your photos to reflect this. Using a photo from years ago because you love that photo is a very bad idea and if you we think any photo is too old we will ask you to change it.

Additional Photos:
Once approved you can also upload over 50 different types of additional photos. Read more on which additional photos to upload:
here
The important bit for all photos:
Always upload the highest quality image you can

Your image must be either PNG, GIF, JPG or JPEGs
Your image must be over 100kb in size

Your image should be portrait and not landscape
Your photo should be recent and look like you
All photos must be in colour, black and white photos will be rejected

Head and Shoulders example: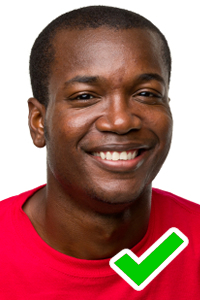 Head and shoulders face on to the camera

There should be no one else in the photo
Don't wear a hat or sunglasses
Don't be too close up
Full-length example:
Head to knees, facing on to the camera
There should be no one else in the photo
You should not be too far away
Think about what is in the background, neutral is better

Smart example:
ALWAYS:

Select photos that are a true representation of yourself that have been taken within the last 6 months.

Send the highest quality images you can get.
Supply digital photos that are portrait in orientation NOT Landscape or square.

Remember the photo should be about you not about the background.
Always use colour photos, black and white photos will be rejected.
NEVER:
Heavily edit digital photos or supply edited/cropped digital photos or scans of photos
Send landscape or square photos.

Send tiny photos. If below 500kb it won't be of high enough quality.

Never use photos where you are wearing a hat or sunglasses.
Social media filters are also banned. You pictures need to look as natural as possible.
Never use photos with more than one person, it just needs to be you in the picture.
REMEMBER:
Following these guidelines will ensure you are portrayed in the best possible way
All images should be in colour, black and white images are not acceptable.

Much more can be read on photo guidance: HERE
Have a different question? We have over 100 answers for you:
here